Last updated: 15th September 2022
For starting price of USD 20/MYR 80, you (as the commissioner) will get a cel-shaded COLOURED artwork with LINE ART, consisting of SINGLE CHARACTER and PLAIN BACKGROUND, created by me (as R3MANIAC, the artist).
You may refer to the artwork samples below for the art style you're going to expect from this commission.
Profile Icon (Head)

Half/Full-Body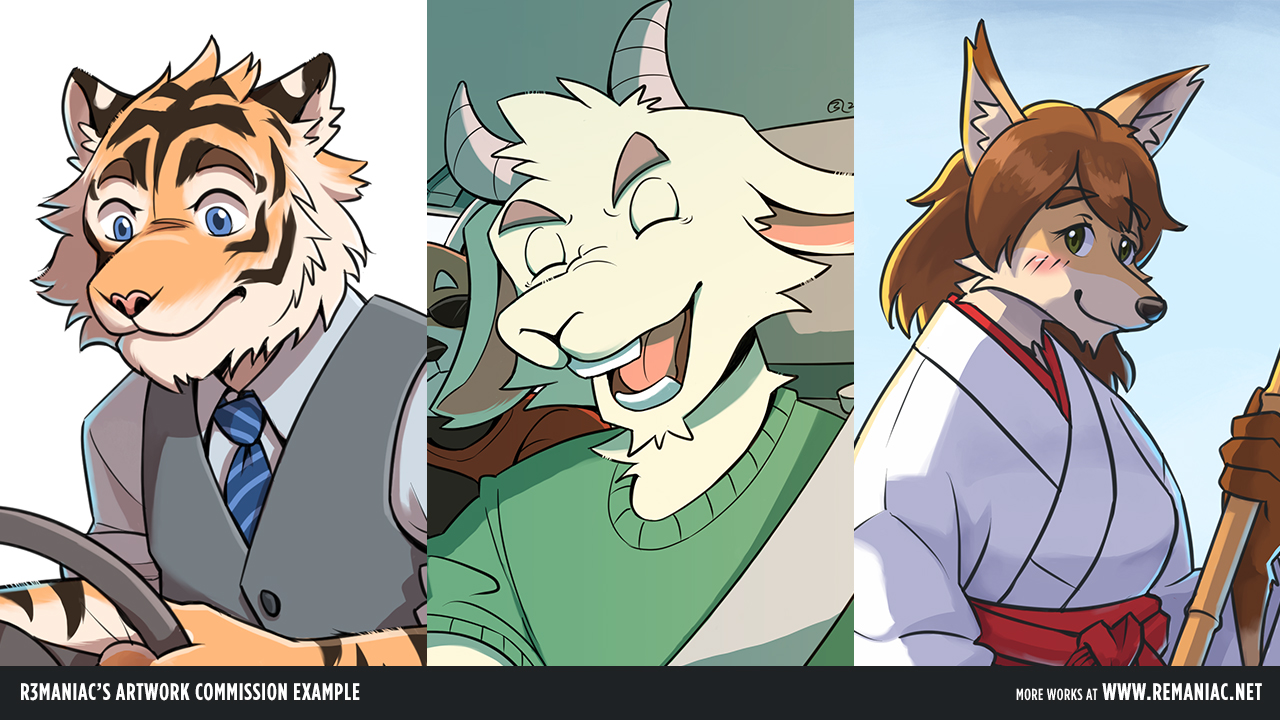 ---
Table of Contents
---
1. Price List
Base Price
| Particular | Price (USD) | Price (MYR) |
| --- | --- | --- |
| Profile Icon (Head) | USD 20 | MYR 80 |
| Half-Body | USD 40 | MYR 160 |
| Full-Body | USD 50 | MYR 200 |
Add-ons
| Particular | Price (USD) | Price (MYR) |
| --- | --- | --- |
| Additional Characters | USD 30/each | MYR 120/each |
| 2/4-wheeled Vehicle | Not Available (until further notice) | Not Available (until further notice) |
| Background | USD 20-35 | MYR 80-140 |
| Complex Character Details | Vary | Vary |
NOTE: Add-ons are not applicable for profile icon commissions.
---
2. Payment Info
Only payable via Stripe (Mastercard/Visa).
The MYR (Malaysian Ringgit) rates are only for Malaysians.
Please do not reveal and/or discuss any commission details on Stripe invoices. You may reach me directly if you have any changes or requests.
The final payable amount will be quoted to you once your commission request has been selected.
---
3. Procedures
I will provide you the draft upon accepting your requests for your approval. You are allowed to request maximum 3 changes for the draft.
A Stripe invoice will be issued to you after getting the approval of draft from you.
I will only start working on the commission once the payment has been fully received.
No more changes of the artwork from this point onward.
Once the artwork has been completed, you will be notified via email with the completed artwork attached.
---
4. Usage of Commissioned Artworks
Commissions requested via the Google Form (accessible via the URL below) are meant for personal use only, strictly no commercial usages.
You will receive the commissioned artwork in digital JPG format with resolution of 300dpi.
I reserve the right to publish the completed commission works on my own social media accounts for portfolio purposes. You may opt out of this if you are not comfortable with the works being published publicly.
Kindly contact me directly via email for any commercial projects.
You DO NOT have the right to mint/sell the commissions from me for NFTs.
---
5. Extra Info
I reserve the right to not proceed with your commission request without explanations given.
Cancellation of commission is allowed, though there will be no refund after payment has been made.
Kindly give me some time to respond to your request after submitting the form - I might be working on a draft based on your request before approaching you.
Failure to respond to the request acceptance, draft, progress confirmations and/or invoices within 3 days of receiving them will result in cancellation of requests.
It might take me days (or weeks) to finish one commission artwork, though I will inform you in advance if there are significant delays.
---
6. Contact Info
You may reach me via the platforms listed below if you have any questions:
---
7. Submission of Commission Requests
If you are interested in commissioning me, kindly submit your request via this Google Form. I will respond to your request as soon as I can. By submitting the form, you fully understand the terms and conditions of this commission request.
Thank you and have a great day!